Current and precise weather conditions (METAR) and forecasts (TAF). Not only for pilots.

Requires iOS 9.1 or higher. Available as free download for iPhone, iPad, and iPod.
---
Data

Raw and decoded METAR/TAF data

Data caching for offline access

Built-in airports database

Additional airport information like sunrise/sunset, twilight, station location/elevation, timezone, and daylight saving adjustment

Earthquake data for last 24 hours

User weather images (AeroPix)

Features

Nearby stations group
Today widget*
Alert notifications for METARs*

Various settings for formats and units 

Dynamic font size support
Map view
Data sharing  and printing (raw and decoded)
3D touch and drag and drop support (iOS 11 or higher)
ATIS-like read out of METARs  (iOS 11 or higher)
Includes iMessages app to send raw METAR/TAF (to be used through iOS Messages app; on iOS 10 or higher)

* Additional functionality which needs to be unlocked (one-time purchase). In-app purchases are not transferable between Lite, Pro, and Mac.
---
Better organized with groups
AeroWeather Lite now offers built-in groups for nearby stations, today widget*, and earthquakes and groups can be mixed with stations.
Depending on your needs, groups can be shown or hidden in the main list view. Each group has its own settings ("ooo" button) for data format (raw/decoded), sort order, and background color (either white as usual or time-based, where a stations background becomes dark when there's nighttime).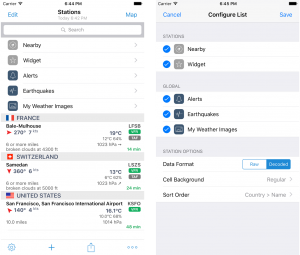 ---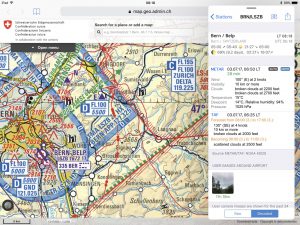 Adaptive user interface for efficient use
When a detail station is shown you can directly swipe through the list without having to go back and forth which is especially useful on iPhones.
Optimized for any device and also supports splitscreens/multitasking on iPads (including drag and drop support for  iOS 11).
3D Touch support: in the station list you can use 3D Touch to get a quick preview of the METAR and TAF on supported iPhones.
Dynamic font sizes: when enabled (in settings) METAR and TAF texts will be sized according to the devices text settings. These can be found in "General > Accessibility > Larger Text".
---
"Fantastic program. I use AeroWeather almost every day. (Even when I'm not at work!)"

Lonnie Ganz

B737 Pilot, Canada
---
Stay up-to-date with alert notifications*
Define multiple alerts for each station with the following criteria: flight rule (US NOAA), wind speed, temperature, pressure, present weather, visibility, and ceiling (BKN and OVC). Notifications will be sent to your device if the criteria is met (e.g., when wind is greater/equal 10 kts, flight rule becomes IFR). On iPhones with 3D Touch notifications will show raw METAR.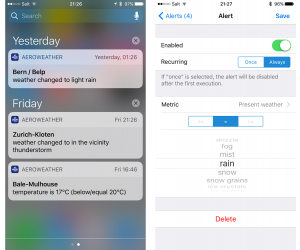 ---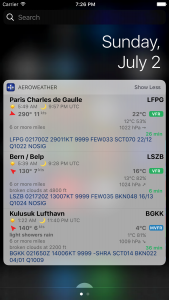 Quick access through the Today Widget*
Today widget for quick access in the today screen and through 3D Touch on app icon.
The list can be set either to manual mode (widget  group) or to automatic nearby stations mode.
---
Help other pilots and users and share the weather
This feature (AeroPix) offers users the possibility to take quickly picture(s) of the weather at their current location. The pictures will be available to all other pilots (on the map or within an airport detail view) helping them to get a better idea about local conditions.
The pictures will be automatically deleted after a couple of hours. AeroPix should be especially helpful when there's no or insufficient webcam coverage. You could sum it up by: one pilot helps another (of course non-pilots are welcome too…).
Your own pictures are also accessible on the "My weather images" group" (e.g. to delete).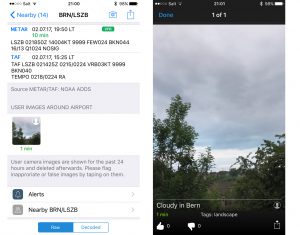 ---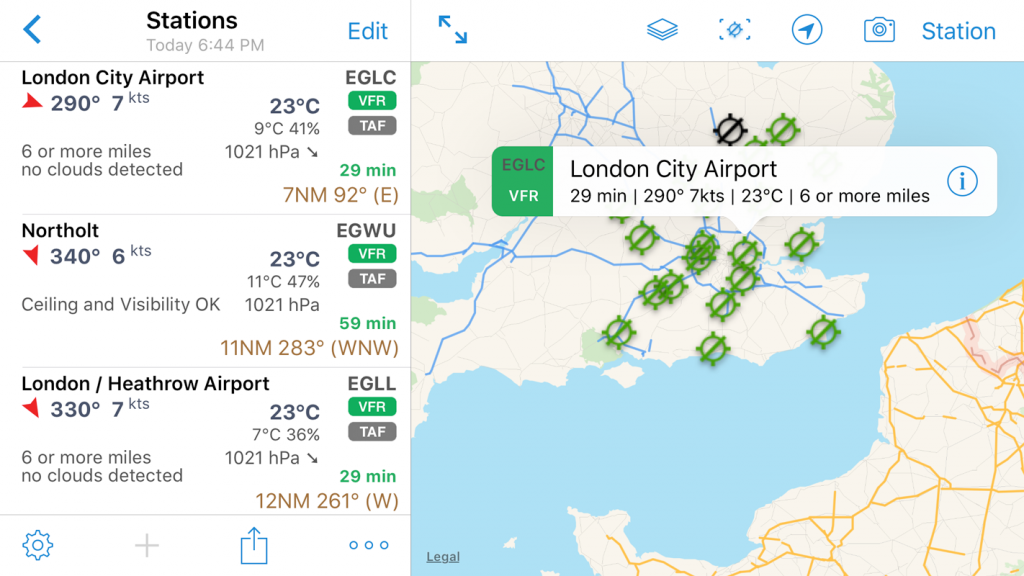 Many other improvements
Improved map view with direct access to station details.
Improved METAR/TAF data loading.
Improved sharing and printing.
Glossary explaining the most relevant terms.
Support of URL scheme to launch the app and show a station.
Option to use World Magnetic Model (WMM) for calculation of magnetic variation and annual change (in station detail view).
In order to keep AeroWeather Lite free we added a small ad banner at the bottom of the screen (consider getting AeroWeather Pro to have an ad-free app). The ad-banner can be removed through in-app purchase.
---
Share METAR/TAF with iMessages
Send current METAR/TAF (in raw format) through the device's iMessages app (available on iOS 10 or higher).
Simply choose any airport by name, ICAO, or IATA code.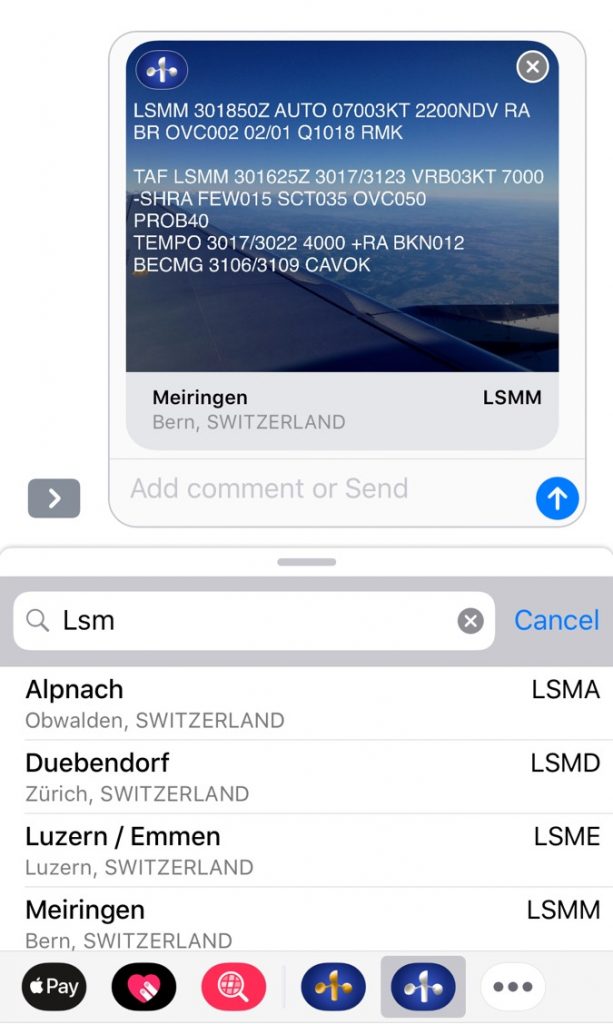 ---
Get weather in your language
AeroWeather Lite is localized in Chinese, Danish, Dutch, English, Finnish, French, German, Italian, Japanese, Norwegian, Polish, Portuguese (Brazilian), Russian (planned), Spanish, and Swedish.

---
Credits
Chinese by 邵大海
Danish by Jacob Olsen
Dutch by Marcel Lindenbergh
Finnish by Mika Hissa, Matti Karjalainen
French by Patrick Scheidegger
Italian by Alberto Antonini, PJ Lansbergen a.k.a. Gran Maestro
Japanese by 寺島千晶
Norwegian by Leif Eirik Skaue
Polish by Marcin Leszczuk
Portuguese (Brazilian) by Vinicius Ayres de Araujo (Comanche – 183.599) based on version by Marcello Marques Loriato (LTO)
Spanish by Alejandro Radina
Swedish by Bengt Bergholm
Luca Giraldi
Erik Jeddere-Fisher
Bill Griffith
Davide Pernici
Tiago Romão
---
Disclaimer
We are committed to provide professional and reliable services, however, AeroWeather is not for operational or navigational use. Do not rely on this application for flight planning. Data decoding might be wrong due to malformatted METAR/TAF. The data presented carries no guarantee whatsoever as to accuracy and/or completeness.
Lakehorn AG will not be liable nor responsible for any resulting damage caused by using this application.
AeroWeather uses weather data from freely available US NOAA, US FAA and other services, which cannot be guaranteed. Costs for AeroWeather are for creation of the apps and backend-services, and not to pay for any weather data. There are no additional charges for freely available weather data sources. There might be in-app purchases for additional weather data in future for which we have to pay as well.
---

Get AeroWeather Lite for free today
Lite Version 1.6.11 web-pages are still available here.

Requires iOS 9.1 or higher. Available as free download for iPhone, iPad, and iPod.
*One-time in-app purchases for additional functionality.
AeroWeather Lite is also available as ad free and completely unlocked 'volume purchasing' version. Please contact us at info@lakehorn.com for further information.