Shows aircraft traffic from your ADS-B receiver (supporting GDL 90)

Requires iOS 13.0 or higher. Available for iPhone, iPad, and iPod touch.
---
Receives and displays aircraft traffic data on map from ADS-B receivers (e.g., Stratux) which support GDL 90 protocol out).
Requires GDL 90 data to be sent to port 4000 via UDP (which is usually standard). Works entirely independent from internet connection (except for Apple map data; simple built-in map can be used instead) and with ADS-B receiver only.
---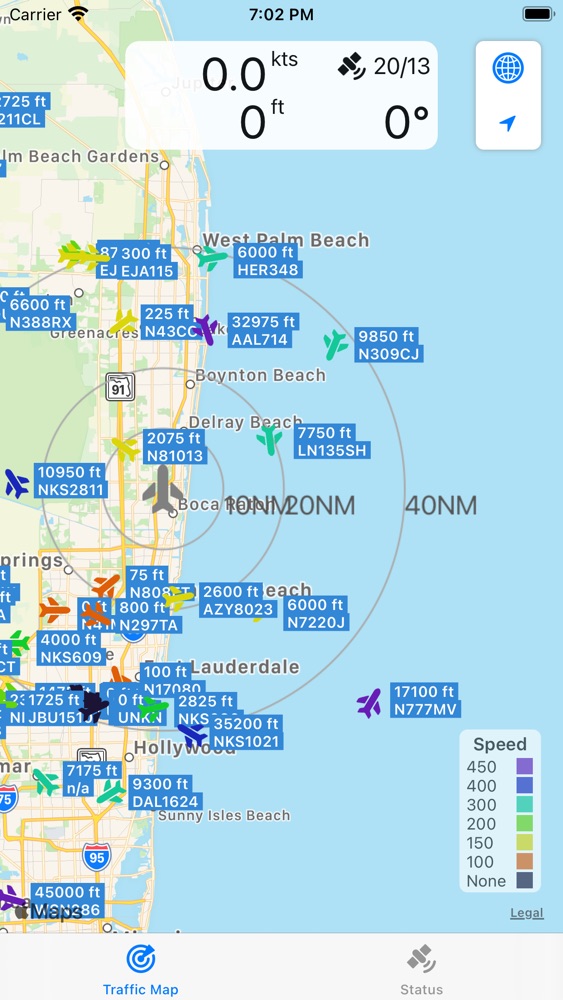 The map display can be customized in different ways:
Use top corner buttons to:

configure aircraft data (altitude, callsign, climb rate, or speed)
show distance rings (10, 20, 40 NM)
change map type (Apple map or simple built-in offline map)
tap on location button to toggle between tracking and none-tracking

Tap on bottom right legend plate to toggle between speed and altitude
The top center view shows own aircraft's speed, track, and altitude. It also show number of satellites seen and used for tracking.
---
Version History
V 1.1 – 19-JUL-2021
Added customizable aircraft data for annotations
Added optional distance rings and scale in map view
Minor decoder improvements
Minor layout changes
V 1.0 – 11-MAY-2021