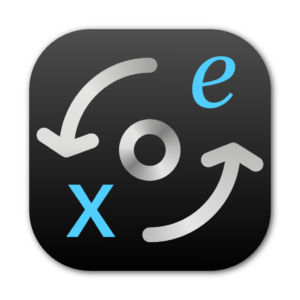 Simple and unobtrusive unit converter for most needs. It can be used as a regular app window but is also available as menu bar widget, and Today Notification Center widget *. Available in more than 20 languages.
---


Categories: Angle, Area, Crypto Currency, Currency, Data Units, Density, Energy, Force, Fuel Efficiency, Length, Mass, Power, Pressure, Speed, Temperature, Time, Timestamp, and Volume
Menu bar widget
Multiple converters are possible in the notification center (available until macOS Catalina 10.15)
Rates for more than 40 currencies **
Rates for 9 crypto currencies **
Settings (in menu bar) for: light and dark mode; keeping the window on top; thousands separator; decimal places
Share conversion via mail, messages etc.
Swapping of units
Localized to 23 languages: Arabic, Chinese (Simplified), Czech, Danish, Dutch, English, French, German, Greek, Hungarian, Korean, Indonesian, Italian, Japanese, Norwegian, Polish, Portuguese, Romanian, Russian, Spanish, Swedish, Thai, Turkish.
Requires macOS 10.13 (High Sierra) or higher. 
*  Today widgets with text input fields are not available anymore in macOS 11.0 (Big Sur) and will not show up. They are still available in macOS versions prior to 11.0.
** Data for currencies are provided by free data sources, which availability cannot be guaranteed.
---
Screenshots
---
Getting Started & Help
Add widget in notification center (pre macOS Big Sur only)
Open the notification center on your Mac and click on the "Edit" button at the bottom of the view. Then click on the green + button next to the Unit Converter. This is only available until macOS Catalina (10.15) and not in Big Sur (macOS 11) and later.
Add multiple converters in notification center (pre macOS Big Sur only)
Tap on the circled i button and then tap on the green + button (at the bottom of the list) to add more converters. Likewise converters can be deleted.
Change settings
In order to change the settings you have open the app (if you just use the notification center version, click on the settings icon in the Unit Converter). Go to the "View" menu item to see all settings.
---
What conversions are available in Euler's Unit Converter?
Angle: Degree, Arc Minutes, Arc Seconds, Radians, Gradians, Revolutions
Area: Square Kilometer, Square Meter, Square Millimeter, Square Miles, Square Yards, Square Feet, Square Inches, Acres, Ares, Hectares
Crypto Currency: BTC, ETH, BNB, USDT, SOL, ADA, XRP, DOT, DOGE
Currency: AED, AUD, BGN, GBP, BRL, CAD, CLP, CNY, CRC, HRK, CZK, DKK, EUR, GEL, GHS, HKD, HUF, INR, IDR, ILS, ISK, JMD, JPY, KWD, MXN, MYR, NGN, NOK, NZD, PEN, PHP, PKR, PLN, QAR, RON, RUB, SAR, SCR, SGD, ZAR, KRW, SEK, CHF, THB, TRT, TWD, UAH, USD, UYU
Data Units: bit, kbit, Mbit, Gbit, byte, KB, MB, GB, TB, KiB, MiB, GiB
Density: Gram per Cubic Centimeter, Gram per Cubic Meter, Gram per Liter, Gram per Milliliter, Kilogram per Cubic Centimeter, Kilogram per Cubic Centimeter, Kilogram per Liter, Ounce per Cubic Foot, Ounce per Cubic Inch, Ounce per Gallon, Ounce per Gallon US, Pound per Cubic Foot, Pound per Cubic Inch, Pound per Gallon, Pound per Gallon US, Slug per Cubic Foot, Long Ton per Cubic Yard, Short Ton per Cubic Yard
Energy: Kilojoules, Kilocalories, Kilowatt Hours, BTUs, Foot Pounds, Newton Meter
Force: Newton, Dynes, Pond, Kilopond, Kilogram-Force
Fuel Efficiency: Liters per 100 Kilometers, Miles per Gallon, Miles per Imperial Gallon
Length: Nanometer, Micrometer, Millimeter, Centimeter, Meters, Kilometers, Inches, Feet, Yards, Miles, Nautical Miles, Light Years, Fathoms, Furlongs, Astronomical Units, Parsecs, Pixel, Points, Pica, Rem
Mass: Kilograms, Grams, Ounces, Pounds, Stones, Metric Tons, Short Tons, Carats, Ounces Troy, Slugs
Power: Watts, Kilowatts, Foot Pound Force Min, Foot Pound Force Sec, Metric Horsepower, Horsepower
Pressure: Newtons Per Meter Squared (Pascal), Kilopascals, Hectopascals, Inches of Mercury, Bars, Millibars, Millimeters of Mercury, Pounds per Square Inch
Speed: Meters per Second, Feet per Second, Kilometers per Hour, Miles per Hour, Knots, Speed of Light
Temperature: Celsius, Fahrenheit, Kelvin
Time: Years, Weeks, Days, Hours, Minutes, Seconds, Milliseconds, Microseconds, Nanoseconds
Timestamp: Unix, ISO 8601, RFC 2822, SQL, Core Data
Volume: Cubic Meter, Cubic Feet, Liters, Milliliters, Gallons, FluidDrams, Fluid Ounces, Pints, Quarts, Cups, Tablespoon, Teaspoon
---
Frequently Asked Questions
Why is the widget not available on macOS 11 (Big Sur) anymore?
Apple decided to remove support to prior macOS 11 widgets entirely. The new widget system does not allow text fields anymore (simply buttons are possible), which makes it useless for this app. They are still available in versions prior to macOS version 11. Since Euler's Unit Converter version 2.0 a menu bar widget has been added to compensate for this issue.
How often are the currencies updated?
Currencies are provided by Fixer and FloatRates, and updated once a day. Crypto currencies are provided by CoinCap and updated every 10 minutes.
Why the name Euler?
Leonhard Euler (1707 – 1783) was a Swiss mathematician born in Basel, which is also the hometown of the developers.
---
Version History
V2.2.5 – 2023-07-19
Minor internal improvements
V2.2.4 – 1st January 2023
Precision bug fixing (temperature conversion)nometer and micrometer to "Length"
V2.2.3 – 30th November 2022
Improved "Menubar Startup"
Improved support for macOS 13 (Ventura)
V2.2.2 – 1st November 2022
Added nanometer and micrometer to "Length"
Bug fixing
V2.2.1 – 24th October 2022
Added input of fractions when using inches in "Length" (e.g., 1/8)
Internal optimizations
Requires min. macOS 10.13
V2.2 – 1st June 2022
V2.1 – 30th December 2021
New category: Crypto Currency

Improved formatting of small fraction numbers
V2.0.5 – 28th October 2021
Added rem unit to length category

Minor internal improvements

Optimized for macOS 12 (Monterey)
V2.0.4 – 4th September 2021
Added currency: Icelandic króna (ISK)

Improved Pica formatting (e.g., 2p3)
Minor internal improvements
V2.0.3 – 15th May 2021
Added to category Energy: Newton meter

Added currency: Malaysian Ringgit (MYR)
V2.0.2 – 20th February 2021
Added new category: density

Improved handling of preferences changes
V2.0.1 – 19th January 2021
Added currency: Uruguayan Peso

Fixed currency data update in menu bar widget

Minor bug fixing
V2.0 – 1st December 2020
Added menu bar app (compatible with macOS 11 Big Sur as previous today widgets are not available anymore); use option in preferences to enable/disable
Minor layout optimizations
Support Apple Silicon
V1.10 – 8th October 2020
The last selections for each category in app/widget are now preserved
Added preferences menu
Added to length category: Pica
V1.9.5 – 2nd April 2020
Added to timestamp category: Core Data
Increased window size
Minor bug fixes
V1.9.4 – 1st March 2020
Added to currency category: KWD
Added to speed category: feet per second
V1.9.3 – 20th December 2019
Added to currency category: UAH
Fixed issue to keep unit settings when selecting same category (widget only)
V1.9.2 – 22nd October 2019
Added to currency category: PKR, NGN
Added to length category: pixel, points
V1.9.1 – 6th October 2019
Fixed 24hr bug in ISO 8601 conversions (timestamps category)
V1.9 – 12th September 2019
Added new category "Timestamp" (converts between unix, ISO 8601, RFC 2822, and SQL formats)
Added currency: Georgian Lari (GEL)
Improved translations
V1.8.1 – 8th August 2019
List in widget can now be edited (to change order of converters)
Improved darkmode support
Improved touchbar support
V1.8 – 22nd July 2019
Widget now supports multiple parallel conversions
Added currency SCR, length units
V1.7 – 25th February 2019
Added currencies CRC, JMD, PEN
Fixed service for alternative currency source
V1.6 – 7th October 2018
Added possibility to swap units for even easier conversions
Fixed some layout issues
V1.5 – 20th September 2018
Support for macOS Dark Mode
Added currency: Ghanaian Cedi
V1.4.2 – 29th June 2018
Added "Data Units" category
Added to category "Volume": Imperial Gallons
V1.4.1 – 4th April 2018
Added currency: New Taiwan Dollar
V1.4 – 31th January 2018
V1.3 – 26th April 2017
Added additional currency source with AED, CLP, QAR, SAR
Increased country flags size
V1.2 – 7th April 2017
Added localizations for: Indonesian, Romanian
Add touch bar support for settings
Fixed currency loading timeout
V1.1 – 25th March 2017
Added localizations for: Arabic, Chinese (Simplified), Czech, Danish, Dutch, Greek, Hungarian, Korean, Polish, Russian, Thai, Turkish
V1.0 – 19th March 2017