Up-to-date METAR station models – directly on your Apple Watch

For Apple Watch with watchOS 7 or higher.
---
METAR Plot for Apple Watch displays station models (plots) as well as raw METARs for most airports worldwide, using current METAR data.
The app features two stations lists: nearby and user-defined. While the entire station database can be used offline (to add station or lookup nearby station), an internet connection is required to load METAR data. Data is updated automatically whenever you open the app.
Preferences can be set for type of flight rules and units (visibility, temperature, and pressure). Options for observation time in LT or UTC as well as sort order of user list.
The app works completely independent from your iPhone and includes complications for watch faces with rectangular and circular types.
If purchased on the iPhone and it doesn't show up on the watch, you can open the App Store on the watch and scroll down to "Purchased".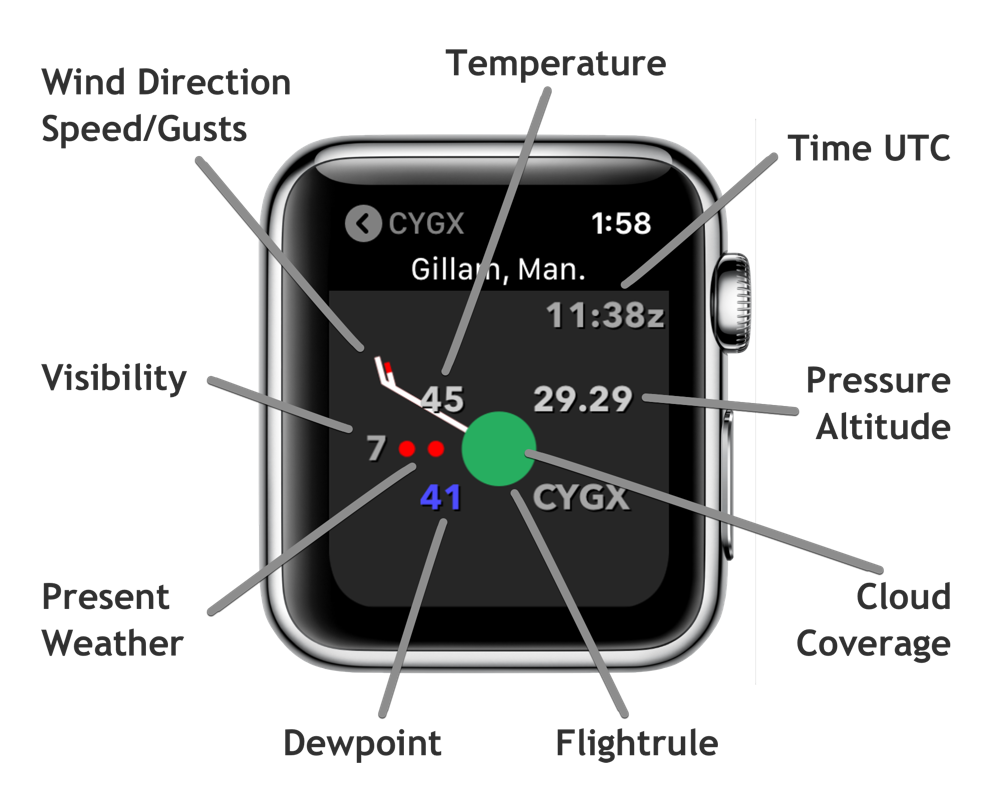 ---
Cloud Coverage uses these icons for display.
Missing is reported whenever there is no valid information on cloud coverage. OVX is reported when the sky is obscured, but cloud information is missing. OVX is also used when vertical visibility (VV) is reported.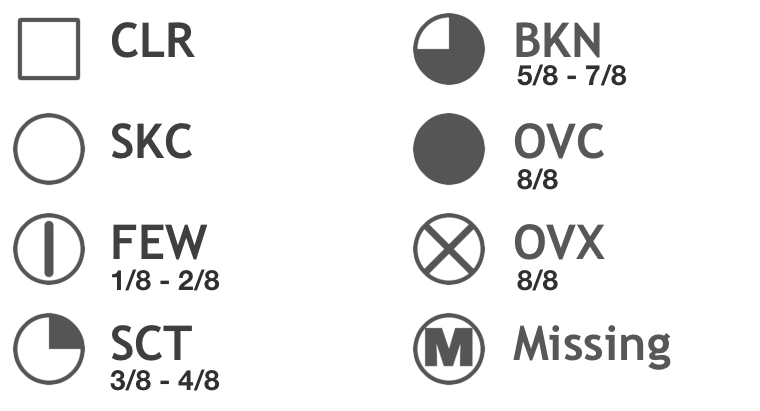 ---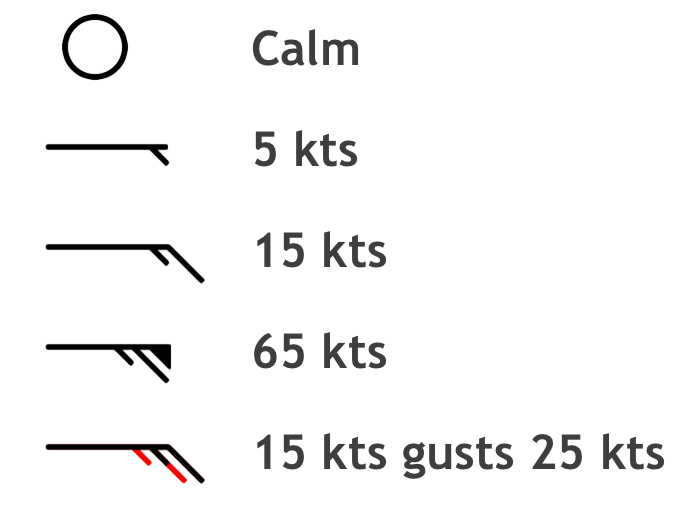 Wind barbs show the direction from where the wind is originating. The strength is visualised in 5 knot increments and always rounded to the next higher value. Gusts are overlaid in red when available.
Note: Winds higher than 99 knots are displayed in red text instead of a barb.
Find more information about wind barbs on Wikipedia.
---
Present Weather symbols use standard WMO icons. See some of the more common icons used.
For a full list of possible icons, see the Present Weather Symbols overview PDF.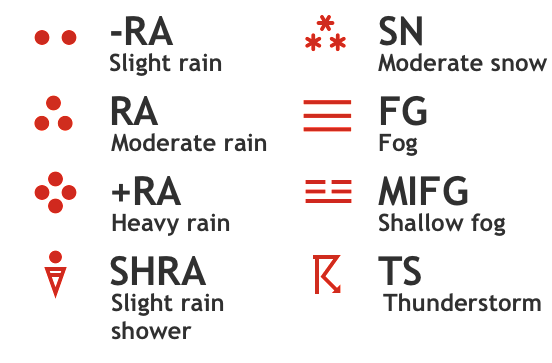 ---
Complications are available for "Graphic Rectangular" and "Graphic Circular". Stations are set directly in respective watch face. A list with all stations (which have been added in the app) will show up. In previous versions the complication was set in the app itself. By setting stations in watch faces it's possible to have multiple complications (e.g., in modular duo watch face).
Please note the following regarding complication and updates (pre-watchOS9)
Refreshing the watch complications is managed by watchOS and usually occurs every 30-90 minutes. Required is a good connection to the internet.
METAR Plot has no influence over when watchOS refreshes the complications, as that depends on available resources on the watch. Usually, updates should happen shortly after a new METAR is available, but that does not mean that the refresh will actually be executed by watchOS.
The more you work with your watch and with METAR Plot, the more reliable complications get refreshed.
If the battery of the Apple Watch is almost empty (low power mode), watchOS stops refreshing complication data until the battery is charged again.
Refreshes of the complications will stop if METAR Plot is killed. To restart refreshing of the complication data, just open METAR Plot, after that, regular refreshes will commence.
---
Version History
V 1.4.8 – 19-JUL-2023
Airport Database 2023-07-19
Minor internal fixes & optimizations
V 1.4.7 – 05-MAY-2023
Airport Database 2023-04-20
Minor internal optimizations
V 1.4.6 – 26-JAN-2023
Airport Database 2023-01-26
Minor internal optimizations
Requires at least watchOS 7
V 1.4.5 – 29-DEC-2022
Airport Database 2022-12-29
Minor UI fixes and optimizations
Last release for watchOS 6. Subsequent releases will require 7.0)
V 1.4.4 – 30-NOV-2022
Improved circular complications
Airport Database 2022-12-01
V 1.4.3 – 13-NOV-2022
Improved complications support for watchOS 9 (incl. My Location)
Changed circular complication layout
Airport Database 2022-11-03
V 1.4.2 – 16-AUG-2022
Added support for multiple complications on same watch face (e.g., Modular Duo watch face). Needs to be set directly in watch face.
Airport Database 2022-08-11
V 1.4.1 – 07-JUL-2022
Improved complication layout
Improved data loading
V 1.4 – 24-JUN-2022
Adapted for latest watchOS user interface
Improved complication loading
Country sort order with section header
Internal improvements
Database update 2022-06-16
V 1.3.1 – 26-JUN-2020
Internal improvements
Database update 2020-06-22
V 1.3 – 02-APR-2020
Added complication graphic circular
Improved data loading
Minor bug fixing
Database update 2020-03-30
V 1.2 – 10-FEB-2020
Added complication ("large rectangular" on Infograph Modular watch face only)
Minor layout changes
Minor bug fixing
Database update 2020-01-03
V 1.0 – 02-OCT-2019
Added option to show station's local time (LT vs UTC)
Added sort order for user list
Added distance/bearing information of stations in nearby list
Minor bug fixing; present weather decoder improvements
V 1.1 – 31-OCT-2019