Celebrate with us - 10 years AeroWeather!
The first iOS version of AeroWeather was published on the AppStore on August 13th 2008, just a month after the introduction of the store by Apple!
Since then it was continuously improved and new versions were added for all devices that Apple released throughout the years:
2010: Pro version with even more features
2011: First version to properly support the iPad
2015: Support for the Apple Watch
2016: Menu Widget AeroWeather for macOS
2017: Major redesign of both AeroWeather Lite and Pro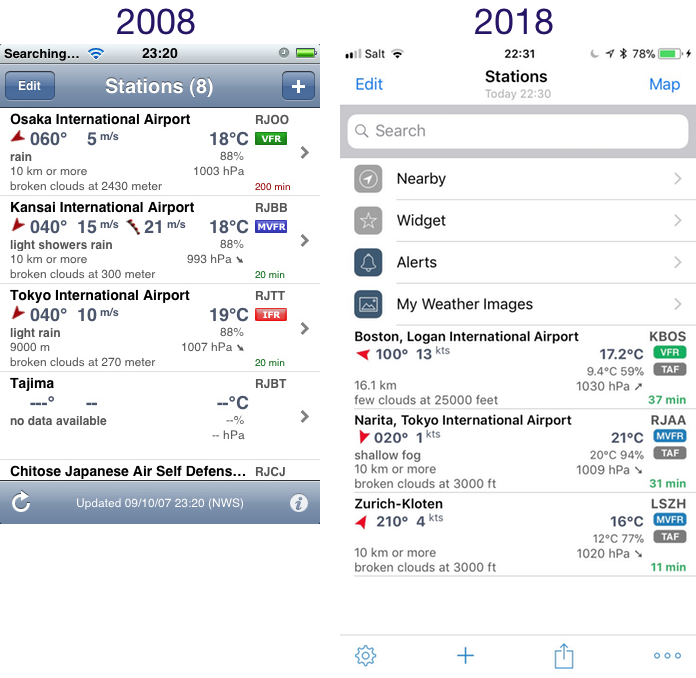 A chance to win prices from Switzerland
As our company is based in Switzerland, we decided to give away some iconic Swiss products:

First price: One original Swatch with an aviation theme.
2. - 6. price: Each one original Victorinx pocket knife. (Blade smaller than 60mm - so you can get it through security checks when flying!)
How to enter the sweepstakes
The sweepstakes will start on August 10 and end on August 31, 2018.
To enter, follow us on Twitter at @aeroweather. Then send a tweet containing the hashtag #AeroWeather10.
Winners will be randomly chosen from all entries on September 2nd. After that, the winners will be contacted via a private direct message (DM) on Twitter. A list with the winners will be posted on this page after September 2nd.
Please read the official rules for the "10 Years AeroWeather Sweepstakes".