For a better understanding of the new meteograms in AeroWeather, we want to give some insights on how data is collected and interpreted. This should help you get more out of this additional and valuable information!
We use data from two sources: Meteograms in the US are based on US NOAA NBM models. For all other stations, we use MOSMIX data from DWD (Deutscher Wetterdienst).
Every hour, we fetch the latest MOS data, process it, and store it on our database, from where it is distributed to the apps.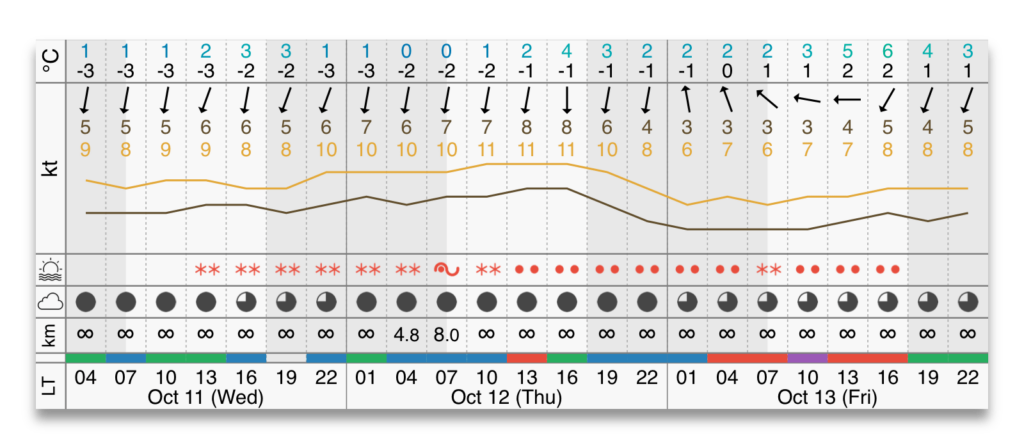 Meteograms include the following data:
Temperature and dew-point
Wind direction and speed, calm if there is no wind arrow. (variable winds are not available)
Wind gusts – A red x means gusts are unknown. An empty space means no gusts.
Present weather icons based on standard WMO icons. (See icon overview)
Cloud coverage uses standard symbols for clear, few, scattered, broken, and overcast
Visibility if below 6 SM (10 km), otherwise, an infinite symbol is displayed
Flightrule calculated from all data displayed plus the ceiling height which is not displayed in the diagram
For some stations, not all forecast data types are available. If data is missing, it will be displayed directly in the meteogram as "data is not available". If only parts of the data forecast is missing or unknown, the space is left blank. (Applicable to temperature, wind, and cloud coverage)
Last update: 11 October 2023