Get current and precise weather conditions (METAR) as well as weather forecasts (TAF), which are used by pilots for their flight preparations.
You can choose worldwide airport weather stations from the built-in database by either name or ICAO code. Data will be shown in its original format or fully decoded into easy understandable texts.
---

Try out AeroWeather Lite for free first.
New to AeroWeather or unsure about what settings exactly do?
>> Check the Quick Start/Help Page.
Also available from Lakehorn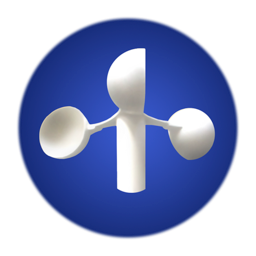 AeroWeather for Mac
---
Features
Get even more functionality with AeroWeather Pro. It has all features of the freely available AeroWeather Lite app plus many more:
universal app (iPhone & iPad)
includes Apple Watch app and complication
displays webcams nearby airfields (provided by www.webcams.travel)
aerodrome NOTAM (provided by FAA), incl. print and mail
runway data
sunrise/sunset, twilight, and moon data
built-in group "nearby" always shows weather in your area
create groups of stations and have them sorted individually
displays optionally up to 12 hours of previous METAR's (raw format only)
possibility to add own comments for each station
improved search includes filters for name, ICAO, IATA, and country (resp. states for US and Canada)
e-mail and print raw METAR/TAF of groups and individual stations (plus SMS for METAR or TAF)
data sharing to Facebook and Twitter
switch between day and nighttime display mode
animated base-reflectivity, velocity, and percipitation radar within detail view (US coverage only)
animated percipitation radar within detail view (Canadian coverage only)
details of US airports include AWOS information (type, frequency, and clickable phone number)
built-in links to airport data and chart (provided by iFlightPlanner)
backup and restore user data with a Dropbox account* or all user data can also be backuped & restored via e-mail (useful in case of re-installing app or to transferring data to different iPhone/iPod touch/iPad)
Available in Chinese, Danish, Dutch, English, German, Finnish, French, Italian, Norwegian, Polish, Portuguese (Brazilian), Spanish, and Swedish.
*requires (free) Dropbox account (www.dropbox.com)
AeroWeather Pro uses weather data from freely available US NOAA and FAA services, which cannot be guaranteed. The cost for AeroWeather Pro is just for creation of the app and not to pay for any weather data. There are no additional charges for freely available weather data sources. There might be in-app purchases of additional data in future for data which I have to pay for as well.
---
Screens
---
Frequently Asked Questions
Data loading fails when using 3G/4G connection (WiFi ok).
Usually mobile data setting for AeroWeather is not enabled. In the device's settings go to "Mobile Data" and scroll down until you see AeroWeather.
Data doesn't show up on Apple Watch.
1) make sure that the widget group is created by the app (don't create the group by yourself). Go to "settings > today widget & apple watch" and enable it. Then go back and add stations to the widget group which was  created automatically.
2) sometimes data doesn't get transfer to the watch properly. Please go the widget group tap edit button and then just swap the first two stations and then press the done button. After that swap them back in the original order again. This will force an update to the watch. It only has to be done once and then it should run without problems.
Can I transfer license/data to the Android version of AeroWeather.
No. The Android version is developed by another company and has to be bought again. Also, data can't be transfer at the moment (but might be available in future).
The app crashes at startup or quits right after startup.
Go to iPhone/iPad Settings and choose "AeroWeather", and switch on "Recover App". Next, kill the app thru task bar (double-click home button and swipe the AeroWeather view to the top) and start it again.
How can I change group names or change sort order within a group?
Simply tap on the blue circled 'i' button on the right side of any group name.
The wind direction arrow points in the wrong direction.
You can set the wind direction arrow to "from" or "to" in the option menu "Format".
How do I change temperature to Fahrenheit?
Tap on the "i" icon to go to the format and unit settings. Switch off "Original station units" and set unit for temperature below accordingly.
Temperatures in METAR/TAF are always in Celsius. So if "Original station units" is on, it'll always display in Celsius.
A station displays always just "data not available" only.
Some stations do not (or just during daytime) report data or US NOAA does not provide them. Please find another airport station nearby.
The airport/station is not shown when clicking on maps.
Some coordinates may not be accurate anymore. Just mail me the ICAO codes and I'll have them fixed.
The application crashes!
This can happen when the METAR/TAF of a station is really malformatted (which unfortunately does happen). If possible, mail me the METAR/TAF or at least the ICAO codes/stations names so I can enhance the parsing process (you may check the raw data directly from http://adds.aviationweather.noaa.gov/metars/).
Contact us if you have a question, found a bug, have suggestions, or can offer translations for AeroWeather.
---
Further information
---
Credits Translations
Chinese by 邵大海
Danish by Jacob Olsen
Dutch by Marcel Lindenbergh
Finnish by Matti Karjalainen
French by Patrick Scheidegger
Italian by PJ Lansbergen a.k.a. Gran Maestro
Japanese by 寺島千晶
Norwegian by Leif Eirik Skaue
Polish by Marcin Leszczuk
Portuguese (Brazilian) by Vinicius Ayres de Araujo (Comanche – 183.599) based on version by Marcello Marques Loriato (LTO)
Spanish by Alejandro Radina
Swedish by Bengt Bergholm